Junior High Parents: Please ask your child about the parent letter sent home with them today. If the letter was lost or forgotten or your child is currently quarantined, you can see that parent letter by clicking the link below or going to the Documents tab on the website. This is regarding the Erin's Law refresher course we will be hosting on Thursday with our partner SAFE! Thank you!
https://core-docs.s3.amazonaws.com/documents/asset/uploaded_file/1198163/20210406090319101.pdf

Remember the Junior Class is hosting a sand volleyball tourney on April 18 at 1 pm. Money and teams are due the Tues-Thurs before. Please contact Ms. Schwartz to give team names and money. It is 10$ a player and the top 3 teams will receive a prize! Come on out, enjoy the day with friends, and support your Junior Class! 🏐 Contact: Raigen Schwartz
rschwartz@odinpublicschools.org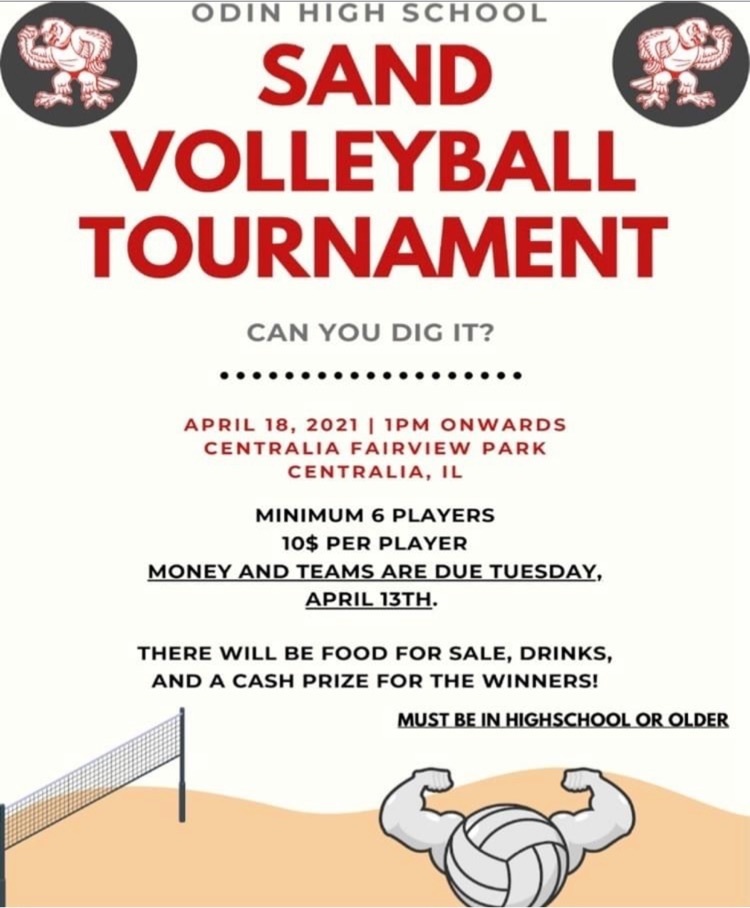 Remember, tomorrow, April 6th kicks off OHS Carnival Week! Tuesday is Famous Friends- Whether it's Mickey and Minnie, Ethel and Lucy, Bonnie and Clyde, or Salt N Peppa, come dressed as your favorite duo!

WEAR RED on TUESDAY, APRIL 6th. Let's show support for the Franklin Park Middle School and Salem community as they mourn the loss of their classmate, student, and friend, Wesley Hunter. Our thoughts and prayers are with the family, administrators, teachers, staff, and students during this unimaginable time of grief.

Congratulations to our 3rd quarter Honor Roll Students!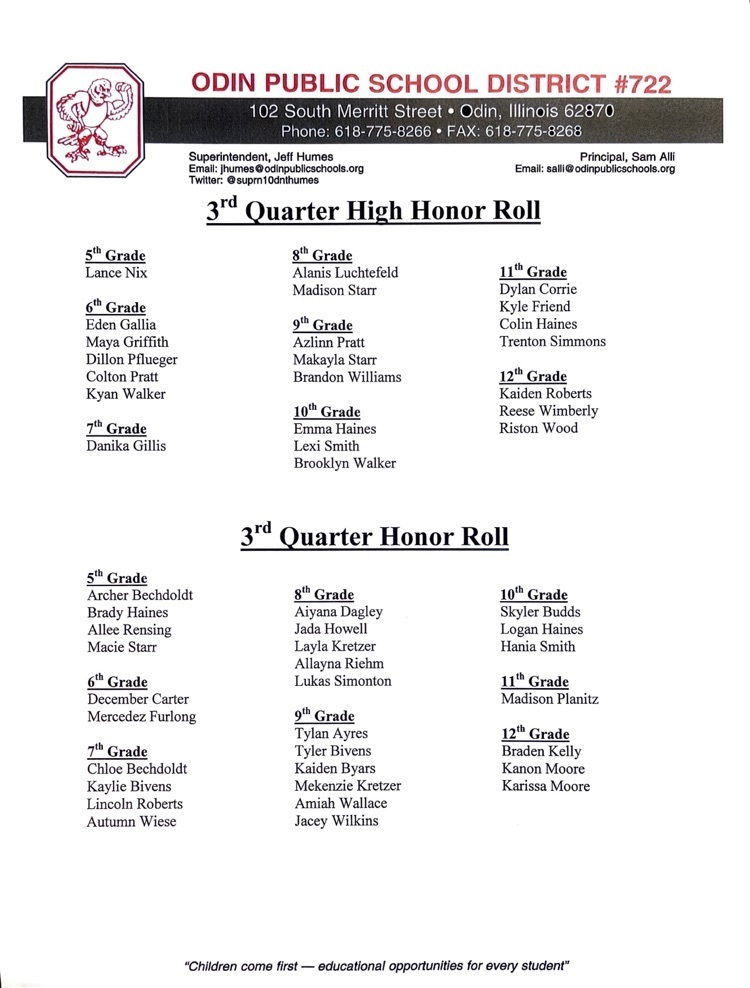 Please use the link to watch the Class of 2021 1/2 Hog Raffle Drawing! The Class of 2021 would like to thank everyone who participated or donated to the ½ Hog Raffle class fundraiser, which helps our class financially for our Senior Trip to Gatlinburg, Tennessee. #classof2021
https://www.youtube.com/watch?v=YwpFUGXD8qY

Reminder- Friday, March 26th will be an 11:30 student dismissal. Spring Break will be from Monday, March 29th- Monday, April 5th. School will resume on Tuesday, April 6th. Have a happy and safe break!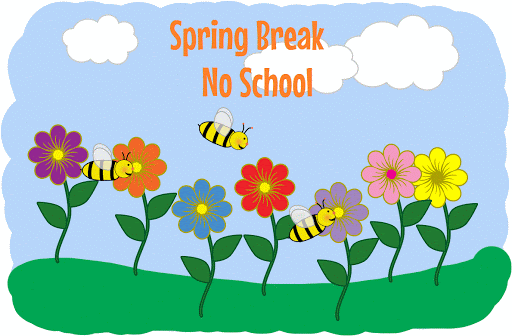 Mr. Capps brought his high school traditions to the Odin Ag Department. Seniors enjoyed the 1st Annual Beast Feast!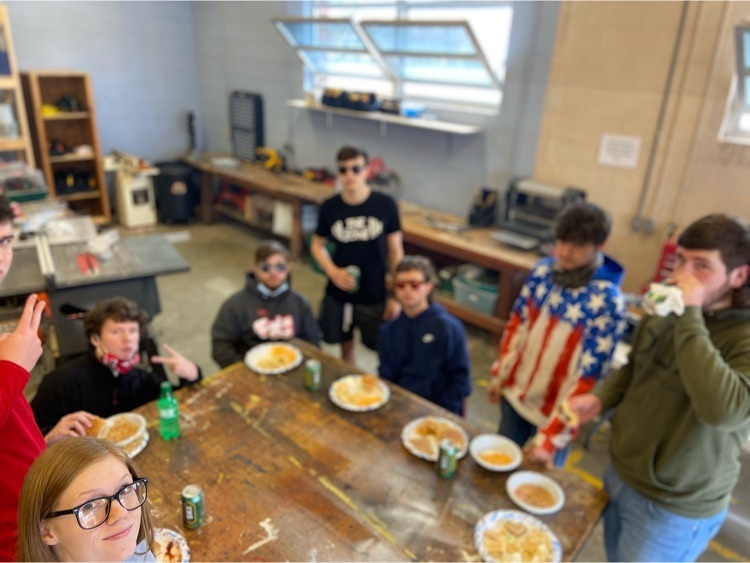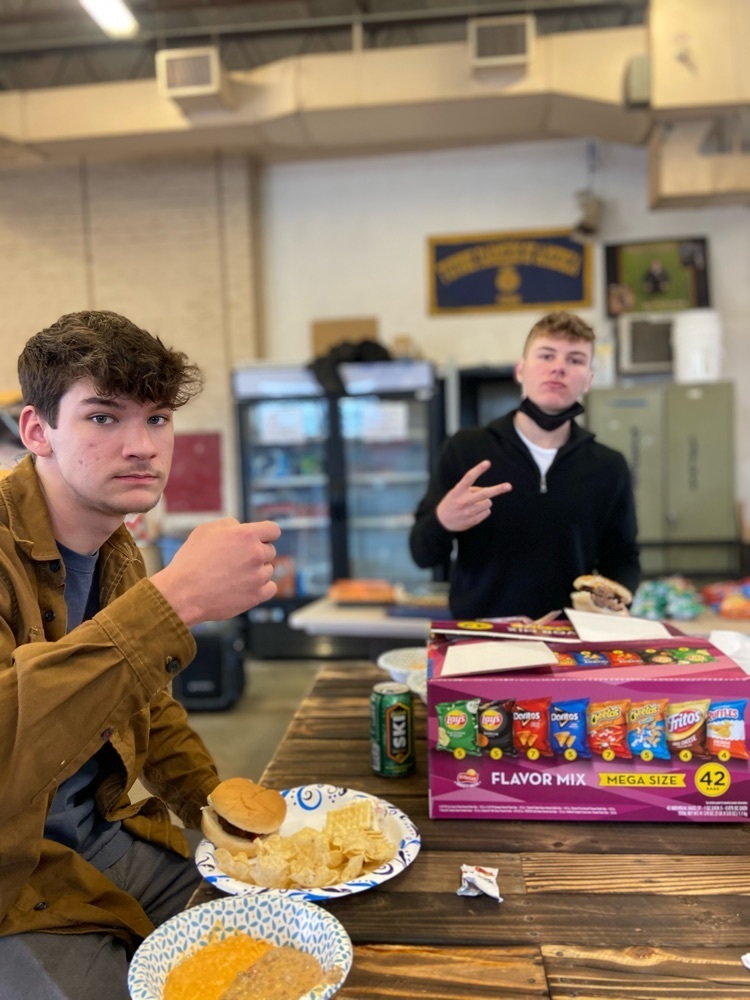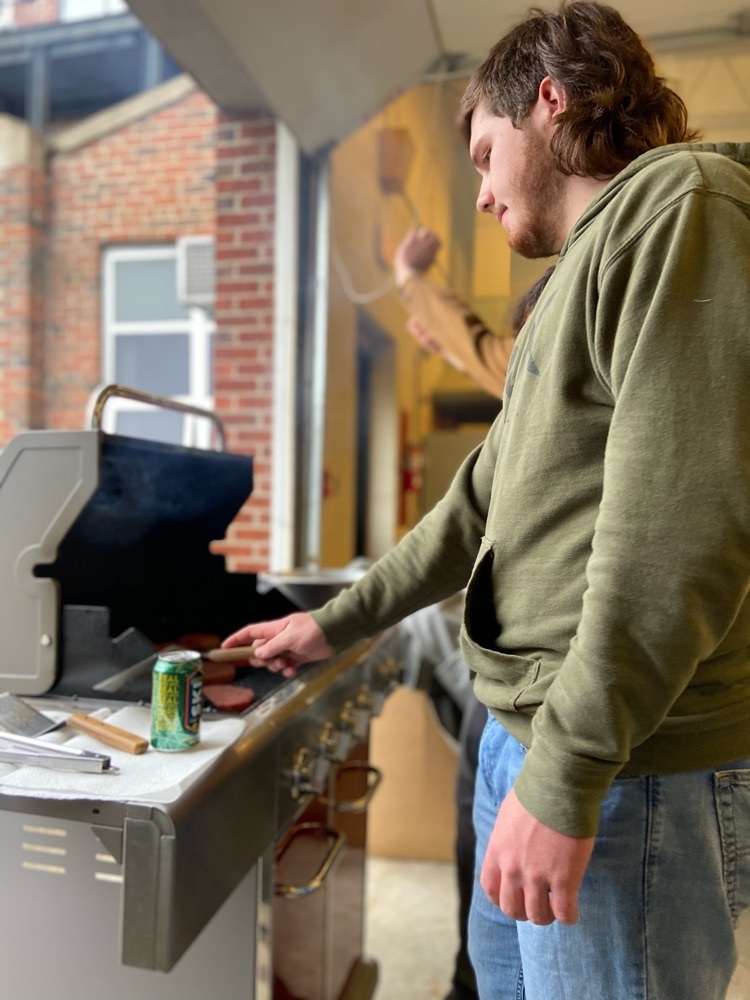 OHS Carnival Week is April 6th-9th!

I think the Seniors enjoyed their takeaways from Greenville University 🕶#toocoolforschool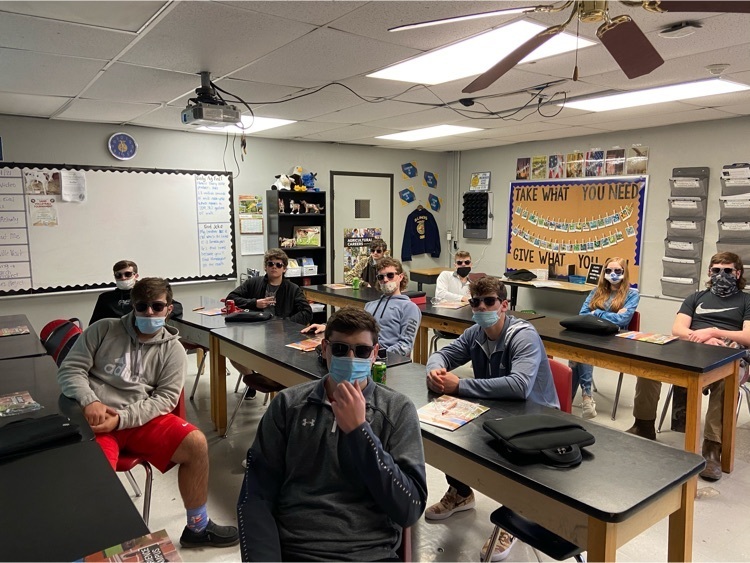 Mrs. Schaefer's class is out enjoying the beautiful day flying their kites for stem class! 🪁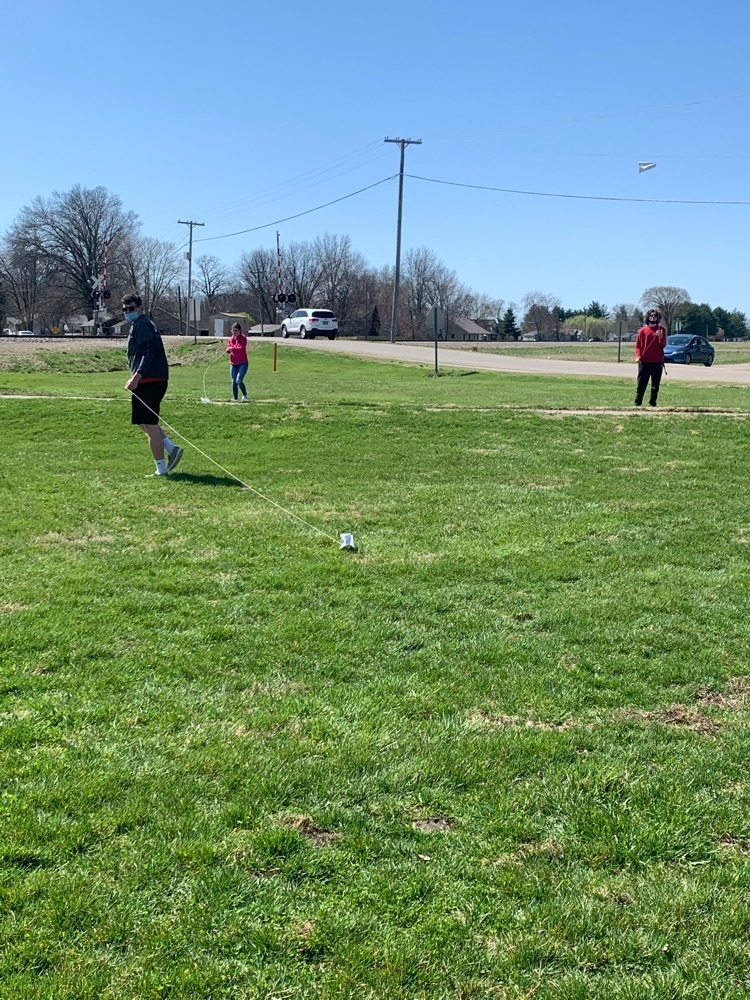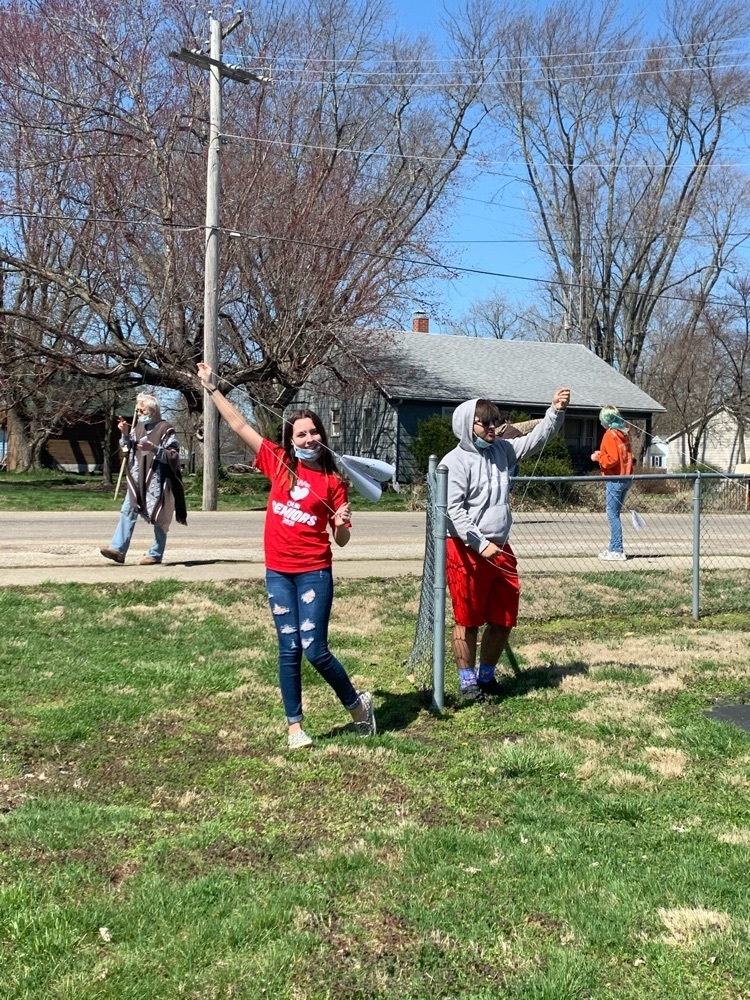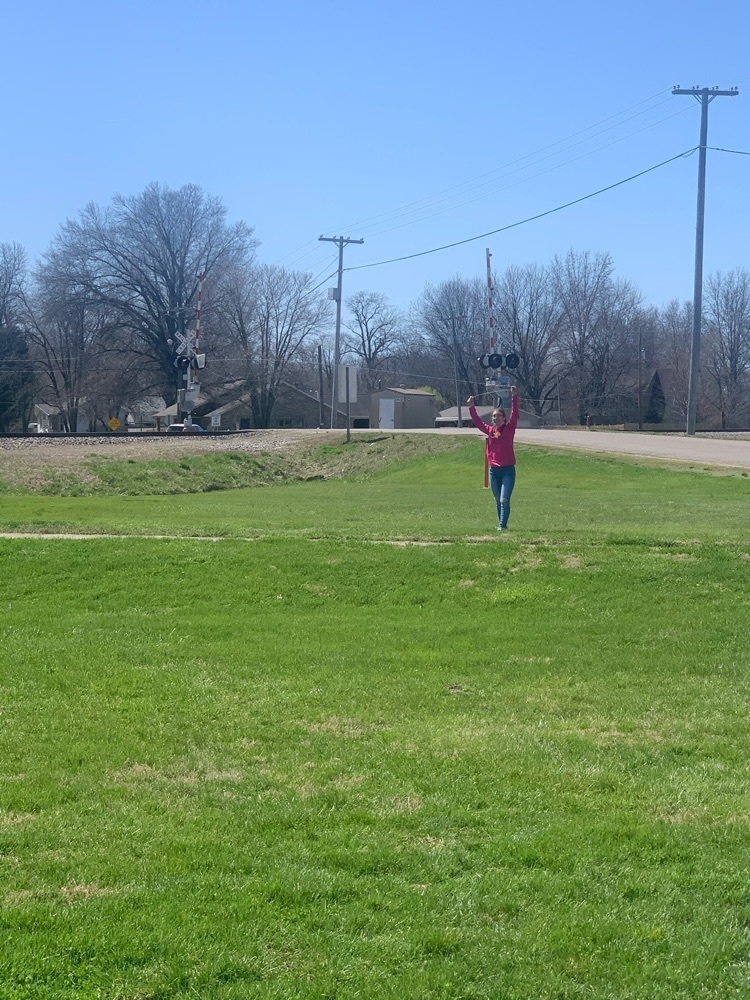 PSA for all HIGH SCHOOL students and their parents: If you have ANY pictures of your student(s) from their past years at Odin, please send them to Ms. Schwartz. From kindergarten all the way to their senior year, we will take them. There will be a slideshow playing at carnival and we want as many pictures as possible! Thank you. Her email is
rschwartz@odinpublicschools.org
.


Mark your calendars for our final blood drive of this school year! Each blood donation earns our senior Student Council members MORE scholarships! Visit redcrossblood.org and enter code OdinPS to schedule your appointment. Students aged 16/17 can give blood with parent permission!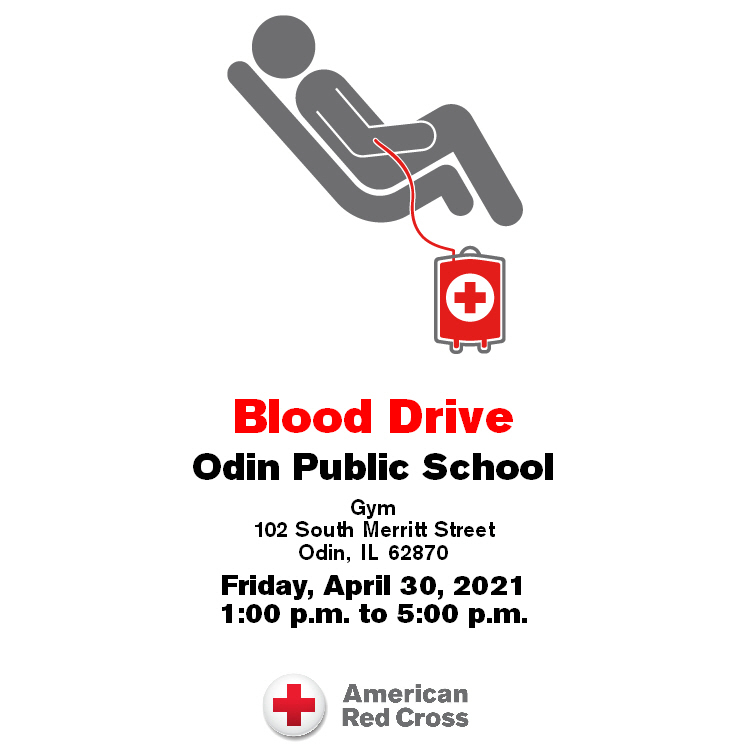 Reminder: If your student is quarantined/working remotely, they MUST be checked in each morning for attendance through TeacherEase, check their Google Classrooms daily for assignments, and keep up on all assignments. Students may contact their teachers through Google Classroom for any questions.

The JH Girl's Basketball game that was scheduled for tonight against Central City has been canceled.

Spring pictures and sports/club picture day have been RESCHEDULED to Wednesday, April 7th. Spring picture order forms have been sent home. Sports and club picture order forms are available outside the main office. All athletes MUST have their uniforms to have their picture taken.

Odin's Junior class is hosting a sand volleyball tournament Sunday, April 18th at 1 pm. It is being hosted it at the Centralia park volleyball courts. You must be in high school or older to participate. It is 10$ a player and it is a six player minimum on a team. There will be tons of food and drink for sale, CASH prizes, and fun! Get yourself a team and come on out to support the juniors! Contact Raigen Schwartz for team signups or questions.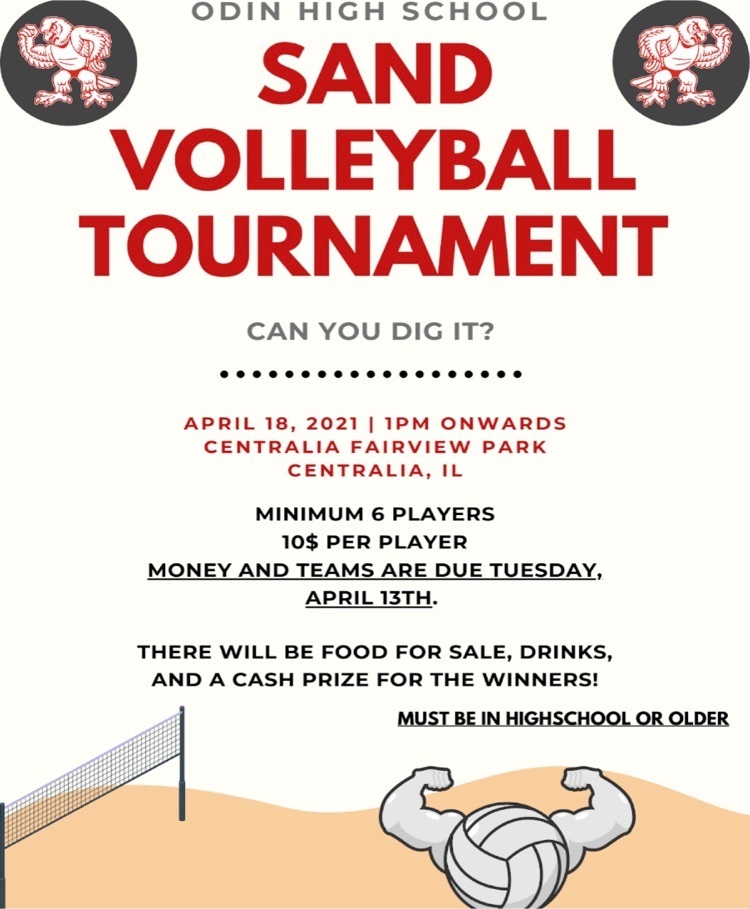 Mr. Capps's Ag Science class has been learning about the fundamentals of livestock judging. Today, Adrian Austin, Texas A&M University Animal Science Graduate Student, presented to students about her experience and knowledge on livestock judging. #opportunitystartshere #livestock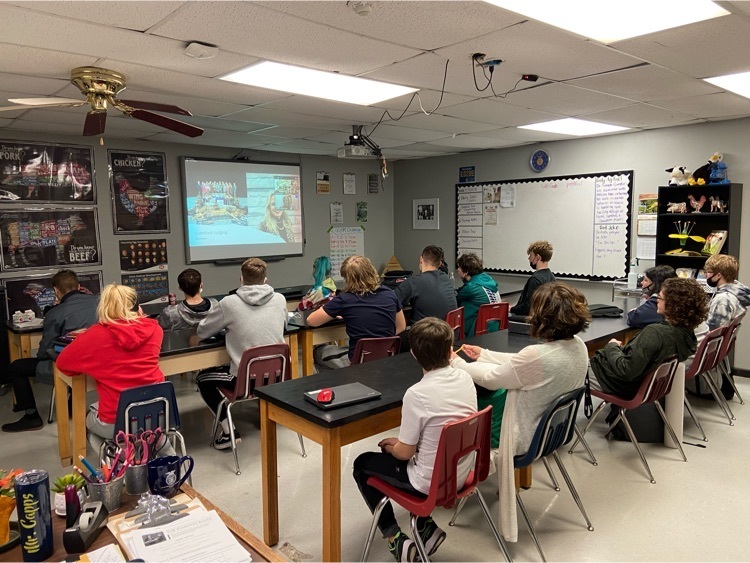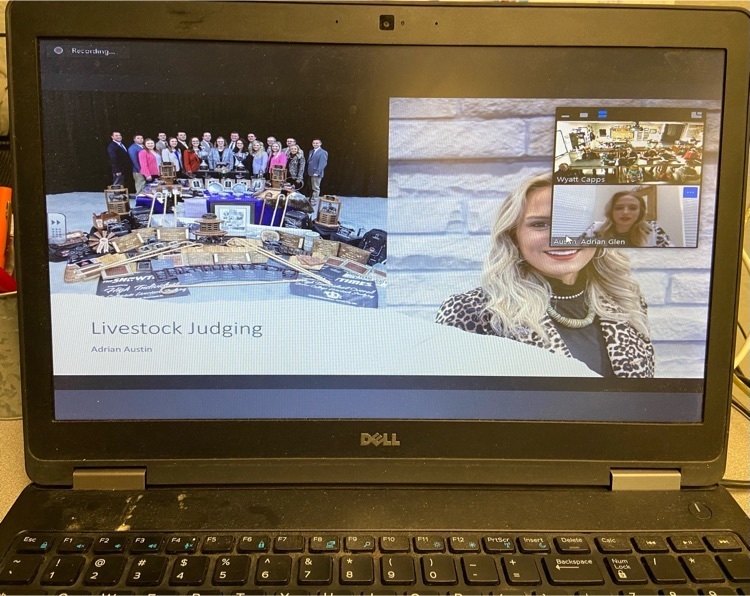 Spring pictures and sports/club picture day will be Wednesday, March 24th. Spring picture order forms have been sent home. Sports and club picture order forms are available outside the main office. All athletes MUST have their uniforms to have their picture taken.