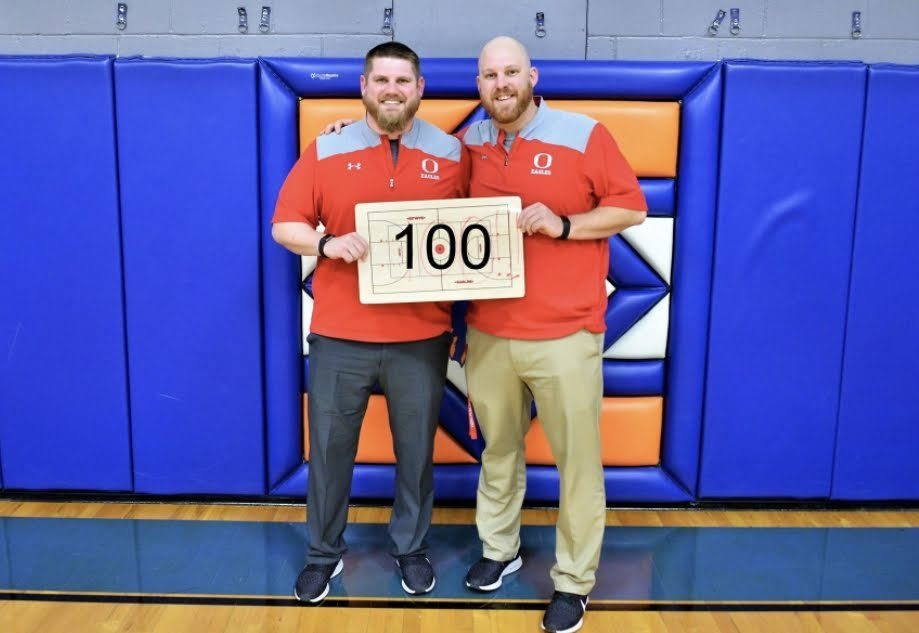 2 OT Thriller Leads to Coach Mitchell's 100th Win!
Ethan Finckbone
Thursday, February 20, 2020
Last Thursday (2-13-20) Coach Tyler Mitchell received his career total 100th win in a double overtime thriller! The Eagles trailed Cisne late into the third quarter, but the Eagles went on a huge run to send the game to overtime… then double overtime. At the final buzzer of the second overtime, the Eagles had finally won the game. Coach Mitchell stated, "I have definitely had easier wins than that, but I really didn't think about it (100th win). I was just trying to win just like every other game, especially since it was a conference game. I didn't even realize that it was my 100th win until Coach Eisenhauer came up to me and shook my hand saying congratulations." Coach Mitchell is in his 6th season as a head coach. Before Odin, Coach Mitchell had coached at Waltonville for 3 years finishing there with a record of 46-34. Now, after 3 seasons with the Eagles, he is 54-38 bringing his total to 100-72 (Following a loss this Tuesday vs St. Elmo). Superintendent, Mr. Jeff Humes, speaking on behalf of Odin Public Schools had this to say about Coach Mitchell's 100th win, "It's an honor, and I am proud of him. In a little school it can be difficult to accumulate a lot of wins, you have your down years where you only win 3 or 4 games. It speaks a lot to Coach Mitchell on how hard he works and how hard he helps prepare the team. Winning 100 games is really impressive, and he is only getting started. I mean the All-Time wins leader for a coach here is Ken Dillingham with 211 wins, and he's being inducted into the Hall of Fame this year. For him (Coach Mitchell) to already be at 100 is super impressive and I couldn't be more proud!" All in all, we all are very proud of Coach Mitchell and what he has done for the team and the school. We look forward to seeing many more wins added on to his career, but for now join us in congratulating him on number 100!